Introduction
In smaller bathrooms, making the most of the available space is crucial. A bathtub shower combo is an excellent solution, offering the luxury of a bath and the practicality of a shower within a compact footprint. This blog post explores various bathtub shower combo designs and ideas specifically suited for small spaces, helping you create a functional and stylish bathroom regardless of its size.
Choosing the Right Bathtub Shower Combo for Small Spaces
Corner Bathtub Shower Combo
Design: Fits snugly in the corner, maximizing floor space.
Benefits: Offers a larger bathing area in a smaller footprint.
Alcove Bathtub Shower Combo
Design: Tucked between three walls, this traditional option is space-efficient.
Benefits: Easy to install with numerous design options.
Freestanding Bathtub Shower Combo
Design: A standalone tub with a separate shower fixture.
Benefits: Adds a touch of luxury and elegance, even in small spaces.
Walk-in Bathtub Shower Combo
Design: Features a door for easy access, blending the functionality of a shower with the safety of a walk-in tub.
Benefits: Ideal for those with mobility issues; compact designs are available for small spaces.
Design Tips for Small Bathrooms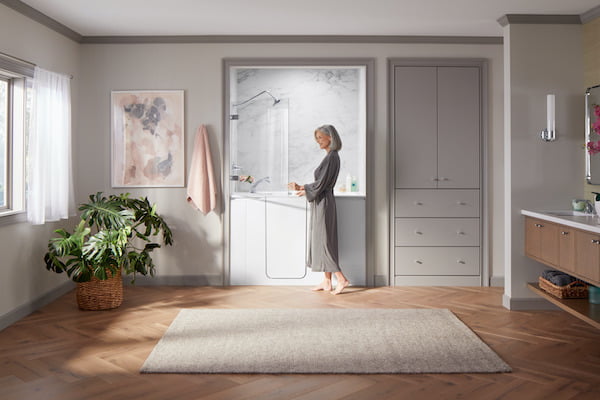 Glass Shower Doors
Advantage: Glass doors, or even a glass partition, can make the bathroom appear larger by eliminating visual barriers.
Light and Neutral Colors
Strategy: Use light and neutral colors for tiles and walls to create a sense of space.
Mirrors
Usage: Large or strategically placed mirrors can visually double the space in a small bathroom.
Storage Solutions
Options: Wall-mounted cabinets or shelves above the toilet can provide storage without taking up floor space.
Innovative Features for Modern Bathtub Shower Combos
Multi-Functional Shower Heads
Feature: Detachable or adjustable shower heads offer flexibility and can enhance the shower experience in a small space.
Built-in Shelves and Nooks
Advantage: Utilize the space inside the shower area for storage without encroaching on the bathroom space.
Heated Floors
Benefit: In small bathrooms, installing heated floors can add comfort without the need for bulky radiators.
Conclusion
A bathtub shower combo is a versatile solution for small bathrooms, combining luxury, functionality, and style. By selecting the right type, implementing smart design tips, and incorporating innovative features, you can transform your small bathroom into a comfortable, appealing, and practical space. The key is to balance aesthetics with functionality, ensuring that every inch of your bathroom is utilized effectively. With the right approach, even the smallest bathroom can become a relaxing and efficient space in your home.