Technically speaking the concept of flat pack homes was known to people since World War II periods. All the tents used by the soldiers during World War II are the testimony of flat-pack homes. Since the '50s, the popularity of flat-pack homes was growing as a cheaper option for any family house. 
In Sweden, flat pack homes are quite famous, and now their popularity is growing in the UK too. Such flat-pack types of homes offered by Vision Development are stylish and also a cheaper alternative to any traditional home. It is estimated that in the UK alone every year more than 3000 people prefer to build such flat-pack houses.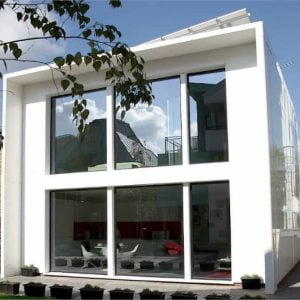 What are these homes made from?
These flat pack houses are usually constructed from Structurally Insulated Panels also known as SIPs that can offer a smooth and flat surface. They can be externally decorated with larch or cedar cladding or zinc to offer a contemporary look.
Also, traditional painted weatherboarding and stone or brick slips are used for complementing with surrounding buildings. A few other companies are using more eco-friendly materials such as bamboo to construct modular houses.
What are the benefits of such a flat pack type of houses?
The following are a few benefits of such kinds of houses:
The rapid assembly as compared to any traditionally built houses

You can build in weeks instead of months

Can easily be assembled and also fairly cheap service to deliver such flat pack houses

All the houses are eco-friendly, energy-efficient

Although such flat pack houses may employ a certain standard design, but they can also be easily customised

The cost is much lower as compared to traditional homes. (Usually, flat pack assembly houses can be 30% less expensive).
What about planning permission?
You can check from the local authority of your country how to obtain permission for such flat pack houses before you buy your land. Only after the local authority agrees in principle you can buy your land and the modular company will help you to get the permission. 
Since these houses are made up of various modules, hence architecturally, these houses are interesting. When they will stand in your land, they will look stunning.
Your flat pack homes can also be built on any land that is located in an ordinary street. If it is so then in that case probably, they will have to fit properly with the streetscape.
How easy it is to get a mortgage?
You must also check from your mortgage provider whether they recognise this kind of build system that is used by all these manufacturers as a 'standard construction' and does not fall under the category of caravans or mobile homes. 
You must also discuss how they will pay the money because your construction company will need upfront money to be paid in different stages and hence you will need a 'staged' loan. 
Also, check with your insurance company or your modular home company whether they can issue a warranty for 10 years period because this is nowadays a necessary requirement of all kinds of mortgage lenders to build new homes.